Hand Made Acoustic Guitars
Fancy a completely out-there, one-off hand-crafted guitar? Balazs Prohaszka can build it. Anything's possible: just ask! From one of the top UK acoustic guitar makers, you can choose anything from a circular guitar to large jumbo to all-rounders to classical to light weight guitars, many with arch top possibilities too. No matter which of the custom made acoustic guitars you choose, this UK guitar maker's guitars  all have that sustaining, clear ringing tone that is the mark of a quality guitar and his guitars have also been exhibited on the Holy Grail Guitar Show. You can also find him listed here.
Check Out These Flat Top Handmade Acoustic Guitars
BARD
This handmade guitar is the Bard, the largest flat top model.
Balazs experimented with numerous different shapes, and found that this gave him something truly special: rich in overtones, with a beautiful bell-like ring. Available in 12th and 14th fret neckjointed version for a slightly different sound.
Get more information on The Bard.


SOMA
This custom guitar is the Soma, flexible, balanced and responsive.
Its body volume delivers a sweet, sensitive auditorium sound. Yet, it's a versatile all-rounder, ideal for fingerstyle and flatpicking alike. Also available in archtop version.
Click here for more information on The Soma.


SILKWING
For a classical guitar, try the the Silkwing, custom made using traditional principles and innovative modifications.
The Silkwing is available in fan- or lattice-braced versions. It has also been built in steel string versions using the 12-fret shape. This hand made model delivers great balance with a traditional classical sound in all its richness and colour – even the highest note responds and rings perfectly.
Get more info on the Silkwing.

CALABASH
This innovative unique design is the Calabash, with traditional definition and projection in a completely new custom shape.
Working on the same principles as a dreadnought, Calabash is an entirely new design created by Balazs Prohaszka. The shallow waist and undivided shape allow as much body volume and resonating surface as a jumbo guitar, while the reduced lower bout width makes it comfortable to hold and play.
This model was designed for a 12th fret neckjoint, and offers more definition to sound compared to a dreadnought – yet the same energy and projection.
Find out more about the Calabash

WEEVIL
This is a no-compromise, lightweight, compact acoustic guitar.  This concept guitar has radical narrow X-bracing to give as much bass as treble, full tonal range, and surprising power for such a small body. The nylon-string version features lattice bracing design. Other, more conventional headstock options are available.
Click here for more information on the Weevil.

How About These Hand Made Arch Top Guitars
PRIMUS
Right first time!
This is the original arch top and still going strong.
Primus is the first guitar Balazs designed and built from start to finish. His techniques, knowledge and construction have evolved over the years, but nothing needs to be changed on this model. After all this is his jazz guitar – and he got it right the first time…

NYLON STRUNG ARCHTOP
This amazing looking, handmade made unique guitar was a custom order.
You might well wonder whether it would work but even Balazs was surprised at just how well an archtop can work with the light nylon strings.
A special sound and a lovely balanced instrument, with a warm, sweet and complex sound.
Find out more about the nylon strung archtop.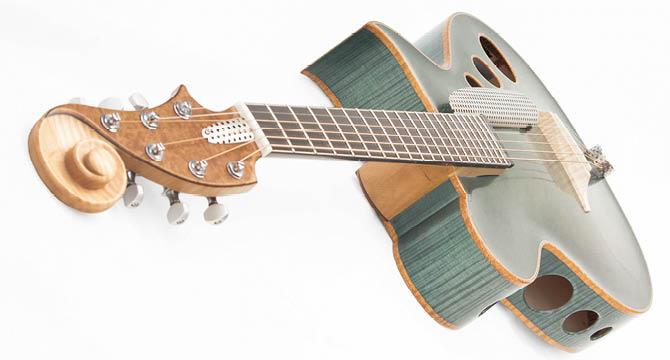 GNAW LYNN'S
If you want a delicious, authentic bluesy sound, try the Gnaw Lynn.
This is a small-bodied archtop guitar, perfect for some down-home Delta pickin'.
A flattop version of this shape is also available – which can be classified as a small model, with surprising power and a more intimate sound.
Find out more about the Gnaw Lynn's.

CICADA
The Cicada is a unique design, providing immense volume and a new dimension in folk or world music sounds.
It is a modern large 10-string archtop cittern (as distinct from the traditional octave mandolin/mandola/mandocello size).
It delivers the immense volume with great clarity and definition of sound and is available in a range of custom lengths: the 395mm wide body works particularly well with the longer scale lengths, making Cicada great for folk, Irish/bouzouki, or oriental-inspired sounds…

BLACKBIRD
The Blackbird has a uniquely versatile sound and is firmly in the great traditional archtop design. It can be built with parallel or with x-bracing
It offers all the classic jazzy tone, but also a degree of clarity that would make it perfect for certain fingerstyle pieces or as a recording instrument.
Check out info on the Blackbird.

Custom Inlays For Custom Made Acoustic Guitars
For an exceptional, individual hand made guitar that totally suits you, why not add an inlay? Inlays are often shell or stone but can also be in metal. Just ask.